Hot Off the Press! Updated Publication Covering More Than 150 Forest Terms
Do you know the difference between forestland and timberland, or what is a BMP?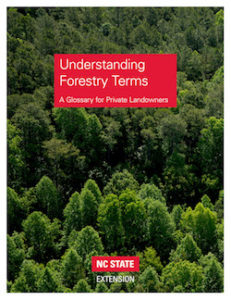 What about stumpage? These are common forestry terms used by professionals when discussing forestry and forestland management. Often as a forest landowner, you will hear and read words and phrases that are unique to the natural resources professions. You will also encounter some common terms that have special meanings when applied to forestry. A publication has just been updated and released that lists and defines more than 150 forest resource terms to help you in conversing with others about forestry matters and in making informed decisions about your forestland. The publication is entitled Understanding Forestry Terms: A Glossary for Private Landowners and was revised by Dr. Robert E. Bardon with NC State Extension Forestry program.